Edit:
Fix'd, not abusable anymore.
My bad if this is already known, but I've never heard anyone talk about this.
Dark Empathy is mostly known for its ability to keep your skeleton mages from boring holes through the back of your head with lasers.
But it has another effect that frequently gets overlooked. It passes a percentage of your saves and resists to all your minions.
As it turns out, there's a quirk with that resistance pass. It doesn't check your final,
capped
, resistance value, but rather your unmodified total. And nonplayer characters are not limited to maximum resistance of 70%.
Dark Empathy, if 5/5'd with an amulet of perfection and/or a category mastery point boost, and a lot of spellpower, can pass well over 100% of your resistance to minions.
A lot of people know by now that phase door runes get a buttload of res all, and it stacks with pain suppression from wilds.
And most importantly, created minions receive that resistance on creation, and it doesn't change thereafter. Same deal with SW clones, and probably all other summons.
Double most importantly, enemies killed with animus purge receive this bonus as well.
The first image is below, taken from my lv 43 nonlich necromancer with awful gear who has no idea what he's doing. He animus purge'd a summoner rare, and I summoned a warhound through him.
The second is from a dev mode character, leveled to 50, wearing +Spellpower fixedarts in every slot, at something like 2.03 necrotic mastery from amulet/cat point, and using spellsurge to pump spellpower higher. Just to demonstrate the still-attainable-but-unreasonable upper limit you can get here.
Unoptimized Lv43

Near ideal dev mode Lv50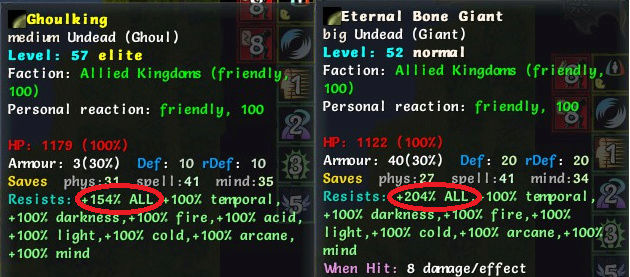 Pre-edit: Just a moment ago I animus'd this guy with that same character.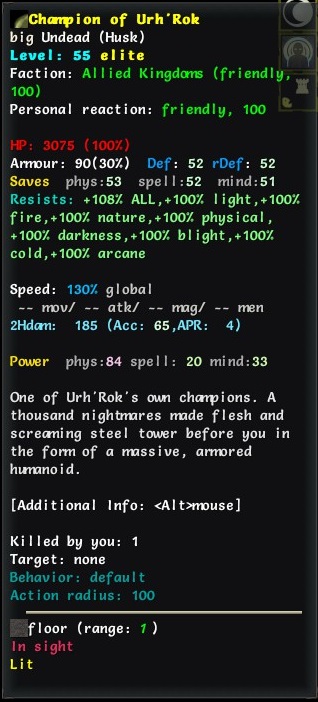 Edit: Turns out that stacking spellsurge is sufficient to get spellpower high enough to make Dark Empathy incredible. This is my live character, not the dev mode guy.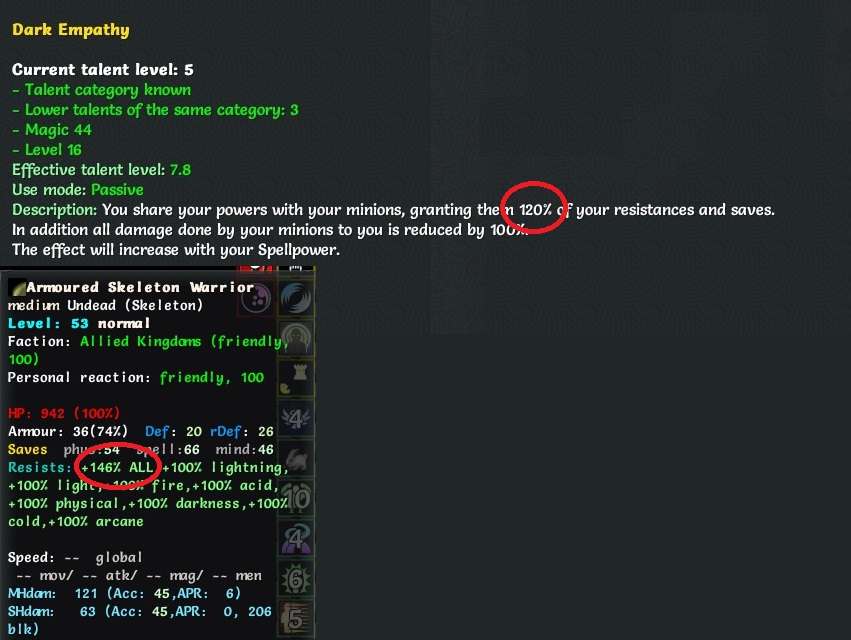 _________________
Pronounced try-bull, not tree-bell